Maga'låhi Gåmson Art in Motion Tee: Adult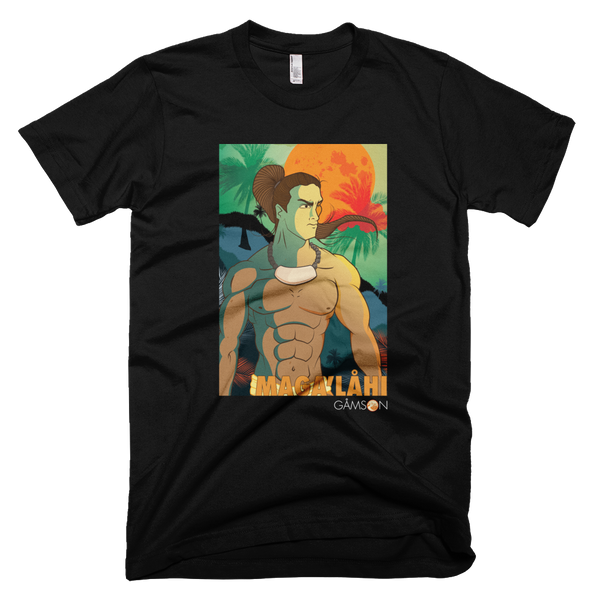 There's something captivating about being in the presence of a powerful influential leader. In Chamorro history, the Maga'låhi was the first born high-ranking male leader of a Chamorro clan. This GAX inspired attire tells the story of Maga'låhi Gåmson, a key character from Kottura Innovation's original story, "Outsmart...Read more
Description
There's something captivating about being in the presence of a powerful influential leader. In Chamorro history, the Maga'låhi was the first born high-ranking male leader of a Chamorro clan. This GAX inspired attire tells the story of Maga'låhi Gåmson, a key character from Kottura Innovation's original story, "Outsmarting Manet". A descendant of Maga'låhi Gådao, Gåmson was trained in the art of spearfishing as a young boy. As a teenager, he was trained in the art of battle by some of Pågo's most tactical gererus (warriors).
Download the free Kottura ART app, to find out how Gåmson became the Maga'låhi of Pågo. Take a piece of Chamorro culture with you wherever you go and share the great history of the Chamorro people with a modern take on storytelling.
American Apparel 100% jersey cotton

Durable ribbed neckband

Unisex

Made and printed in the USA.

This is an Augmented Reality product.
Kottura ART
 Take visual art to a new level. Use this Augmented Reality Tool (ART) with any artwork originally created by Kottura Innovations. Experience live art from mounted wall pieces to apparel, accessories, e-books, books, etc. Focus the camera on your smart device to any Kottura Innovations product and watch the artwork come to life.